Tatum Henry debuts and performs first single live
On Halloween night, senior Tatum Henry's debut single "Cooperate" released on all major streaming platforms. It was a huge deal for Tatum: a student at Prep most already see as musically talented. For one, she has performed with intensity and heart for four years through Revillion Show Choir, "stealing" the spot as the female lead in the Heist show last year. Through her outstanding role as a pivotal voice at Jackson Prep, she was also given the opportunity to sing the National Anthem at the girls soccer team's senior night. So while the Prep community is familiar with Tatum's talent, this was the moment for anyone else in the surrounding area to hear what Tatum is all about.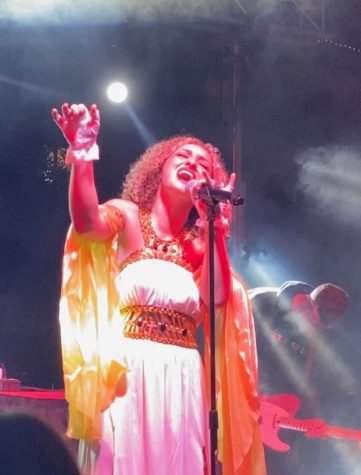 That same night, Tatum was given the opportunity to perform her single live at the District at Eastover–a place that, in the last couple of years, has boomed in attraction with places like Fine & Dandy and Cultivation Food Hall. Luckily, she was able to partner with Fine & Dandy to supply drinks to those old enough, incorporate a photobooth for those who wanted to capture the moment, and had lights and music playing to create a party-like atmosphere for everyone who attended. 
A week or so before, she put out a social media post giving details of that night, presenting a link for people to sign up for tickets (however, you could still show up either way). She also made sure to announce that anyone who was coming should be dressed in their Halloween costume. A group of friends and I couldn't miss out on this experience, so we jumped in our Halloween costumes and headed over. 
After she finished performing her song, Tatum did a few covers of songs from her favorite artists, two of which included the likes of Harry Styles and Stevie Nicks. Accompanying her, playing bass and electric guitar, was Matt Gross, a Prep alumni. Seeming like her set was nearing its end, the crowd started chanting for an encore, and she performed her single with everything she had once more to end the night. 
A night exuding with high energy, loud music, and the urge to dance, was unfortunately over. Yet, I couldn't help but wonder, "when's the next one?" Since the pandemic began, live events like such had become a fantasy. However, Tatum had given a group of people the opportunity to hear live music and have a great night, and took advantage of that by putting herself out there. To say the crowd enjoyed her performance would be an understatement. They loved her, going crazy during and after each and every song. It wasn't just a night of Halloween celebration, it was a night to remember for Tatum–debuting her first single in front of around a hundred people–as well as the people who witnessed a star being born right in front of them. 
I had the opportunity to interview Tatum a week or so ago, and I hope what you read below can give you a glimpse into her talent and creative process. 
Q: When did the process to make the single start? Like, did you write the song first then decide to get together with a producer and mix and master it, or what? What sparked the idea of doing something like this? 
A: I've always wanted to do it, it was just a matter of getting the material and connections. I write a lot, and sometimes something in particular will stick out to me and I know I have to finish it. I showed it to my manager and he had some friends with a studio and we started from there. A large portion of the song was just stuff we came up with and thought of in the studio. 
Q: Do you plan on creating more music to put out there like this one and/or do you plan to put out an album in the near future? Does it depend on how well this single does commercially or not?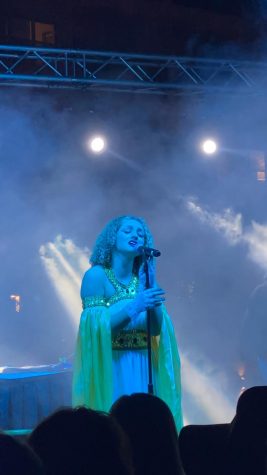 A: Yes! I'm working on something right now, and I plan to keep doing so. I plan on an album in the near future but for now, I'm focusing on some new stuff I've been writing.
Q: About the district. How did you get the opportunity to do something like that? What did doing something like that mean to you in terms of your musical career? Do you hope to start doing more gigs in the future possibly? 
A: It all sort of came together [when] we were looking for a spot to have the [single] party but had very little luck. My manager finally found out that we could use that area and work with Fine & Dandy and such, and he had already used that entertainment company with the dj in the past. I had always kind of wanted a stage to myself and just sort of be myself up there and do what I do [best]. It felt like a big sigh of relief. I love being on stage, it feels like home in a way. It also, in a way, solidified my passion for music for me. It's always so easy to say it will be fun and you'll do great, but you never actually know until you get up there, so it's always amazing when it feels as good as you had hoped. As soon as I get some projects rolling, and some free time, I will definitely start doing some gigs locally!
Q: What're your main inspirations, the things that motivate you to make music/continue making music? Those like Harry styles and Stevie Nicks or even your family: what makes them inspire you to be creative in your own right?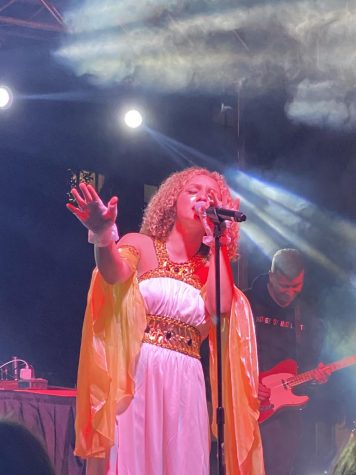 A: I think the thing about music that attracts me the most is the total and complete freedom/lack of boundaries. That's part of what I take from both Harry and Stevie and their unapologetic manner to be themselves and be free within themselves and allow themselves to make music from their hearts and not just their ears. Making music is a type of outlet where you can express certain words that you cannot say with certain notes, lyrics, or absolutely anything that pulls you. It's a way to be vulnerable and intimate with your mind so that you discover this entire other world, which is your own. This mass amount of inspiration I get from Harry Styles stems from him showing just how much of yourself you can pour into your music; same with Stevie. However, one little string, chord, or note can represent the biggest thing for you, while representing something completely different for someone else. They showed me to trust my gut and not worry about what people want to hear but, instead, what I want to make.