Prep's Ducks Unlimited claims national recognition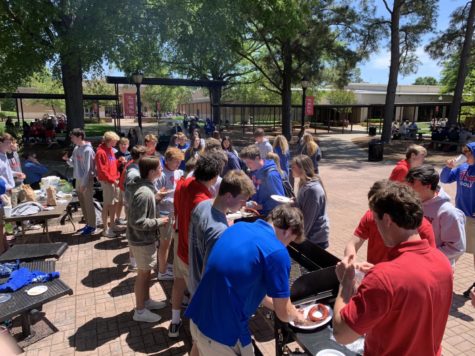 The Jackson Prep Ducks Unlimited Varsity Chapter has had a very busy April. Between cookouts and national spotlights, Prep DU is moving into a new era of national recognition. 
At the beginning of the month, Ducks Unlimited National Board member Ken Carroll reached out to the chapter chairman, Hunter Yelverton, to talk about a new online national spotlight for Ducks Unlimited Varsity Chapters, and that Prep had been selected as the first chapter to be featured due to it's rapid growth and consistent place on the forefront of Mississippi wetlands conservation. Prep's chapter has been #1 in the state of Mississippi for the last two years, and is hoping for the same result when the "Duck Bowl" winner is revealed on Friday, April 30.
For the last three years, the Prep and JA Ducks Unlimited Varsity Chapters have raised money competitively to be the top chapter in the state in the annual "Duck Bowl.'' Prep has had the upper hand in this rivalry for many years, but it is often very close. 
Shortly after they reached out to Prep's chapter about the national spotlight, Ducks Unlimited asked the Prep and JA chapters to help make an episode of Ducks Unlimited's "DU TV" that will show the rivalry between the two schools. The Prep-JA rivalry is already famous across the state, but will be featured on national television through Ducks Unlimited. The episode will be made using clips from the fall banquets of both chapters, shots from the recent wild game cookout on Patriot Avenue which was free to all students, and interviews from leaders of both chapters including Prep's very own Hunter Yelverton, Charles Stephenson, and Ewing Milam. 
Prep DU is continuing to grow at a rate unlike any other in the nation. There is currently an online firearm auction that will be open until Sunday, April 25. 
Co-chairman Charles Stephenson said that, "This [auction] is a great way to get a quality, special edition firearm, especially with the current national shortage."
All money made goes directly towards the conservation of Mississippi wetlands and towards winning this year's Duck Bowl! 
Click here to bid on a gun or donate to the chapter. There are special things happening here at Prep with Ducks Unlimited, and with continued support, Jackson Prep can retain its spot as the best in Mississippi.