Young Athletes To Watch
Madison Klein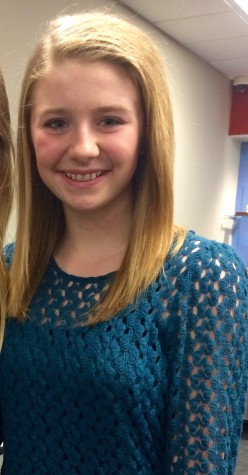 Only in 8th grade now, Madison Klein is looking to be a key factor on the Varsity girls' basketball squad next season.  Playing up is no new thing to her.  She played as an 8th grader on the Junior High team which is composed of all 9th graders.
Not only was she on the team, she started and helped lead the team to be runner up in the south district. The team finished with only five losses. She did not even play in two of those losses.
Klein had a major impact on the JH team, leading them in scoring.  She won the Best Offensive Player Award and led the team in 3-point shooting.  This may be surprising since she is a wing and post player. Coach McAnally explained that she was very versatile and plays all over the court.
Coach McAnally has expectations for her.  He works with her and keeps up with her high work ethic.  He referred to her as a "gym rat," which is the kind of person that is always in the gym working on her game trying to improve the team.  Her work ethic really showed when she asked to work out extra days instead of what was required. Klein also plays on an Alabama AAU team every weekend.
Be looking for her all over the court this fall in the Patriots' red and blue.
Jerrion Ealy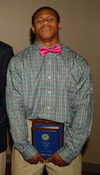 Another 8th grader, Jerrion Ealy, will have a huge impact on Jackson Prep athletics in the coming years.  Football, baseball, basketball, and track. He does it all and all very well.
In football, Ealy starred on the junior high football team during his 8th grade campaign. His speed and elusiveness help him.
In the first seven games, Ealy rushed for 648 yards on 42 attempts and 12 TDs. He averaged 15.4 yards per carry.  In his final game of his one year junior high career against Jackson Academy, he rushed for 205 yards on 15 attempts with 3 TDs.  During the season, he had an 80,84, and 73 yard carry.
With his speed, Coach Marcus Thompson reported that he could beat the majority of the running backs from this years NFL Combine.  He is said to have run 4.44 seconds in the 40 yard dash.
Currently, Ealy is involved with track.  In the first track meet of this year, he ran a sub 11 second 100 meter dash.  He blew all other competition out of the water.  He was in most every race and relay. Later in the season, Ealy will most likely move up to the Varsity team to help bring more speed and explosiveness.
If you want to see him play, just go to the next Jackson Prep athletic event and you will probably see him there.
Price Loposer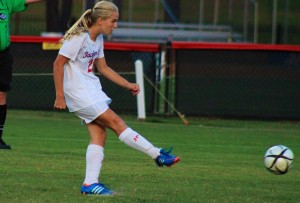 You know the future is bright when the seniors are telling the coach to put in a 7th grader during a playoff game.  According to Coach Jon Marcus Duncan, that is the way it was with this year's team and Price Loposer.
Playing midfield and forward for the junior varsity club, Loposer was a standout player. She exploded in her position which caught the eye of her fellow teammates and coaches.
Her ability enabled her to play for the varsity team during the playoffs after only one practice with the older group.  During her first playoff game, she came in off the bench and scored a penalty kick to help propel the Lady Patriots through to the next round.
Not only does she play for Prep, but she also plays for a Select Soccer team called the Mississippi Rush. The Rush is a team that is an age group older than what she should be in.
Coach Duncan talked about her "game knowledge" and how she has the potential to be a special athlete.  These attributes help her to be a great player and one to look out for in years to come.