Drew Holcomb Performs at Stray Art and Music Festival
Drew Holcomb and the Neighbors Perform for Free in Jackson Drew Holcomb and his band came to perform at Smith Park on May 7th at the Art and Music Festival downtown. The cost for entry was free. Several other bands participated, like Rooster Blues and Vibe Doctors, but Drew Holcomb was the main entertainment; his band was the finale for the event.
Many people do not know who Drew Holcomb is or what his music is like. The band was first formed in 2006 when Drew met his wife, Ellie Holcomb, during college. The two both had a passion for music, and Drew wrote her songs; at the concert in Jackson, Drew explained that his song, "I Like To Be With Me," was what started their special relationship. Later that year, Drew asked Nathan Dugger and Rich Brinsfield, two fellow students at the University of Tennessee, to form a band with himself and Ellie. Ironically, all of their homes were in the same zip code, so they decided to name the band "Drew Holcomb and the Neighbors."
Over the past decade, the band has created over six albums. His music generally relies heavily on acoustic guitar and carries a classic "Nashville tone." Drew's vocals are strong, and, when mixed with Ellie's harmonies, the two create some spectacular music. They opened for the Avett Brother's and also go on their own tours as well. Some Jackson residents may remember their performance for the local Younglife groups about five years ago.
The concert at Smith Park was surprisingly small—only about 150 attended. There were tents set up around the park that sold anything from homemade soap, to one-off painting, or even delicious food. The atmosphere was welcoming and calm.
The band walked on stage at 5:30 that afternoon; to everyone's dismay, Ellie Holcomb was not there; Drew explained that she no longer travels on the road because she takes care of their two young children.
The band's performance was incredible, and Drew's voice sounded even better than his records. He loved getting the crowd involved and got everyone to sing along every now and then. Perhaps the coolest aspect of the live performance was Drew's explanations of the meaning behind some of the songs. For instance, Drew explained that his song, "You'll Always Be My Girl," was written to his daughter to show that no matter what happens, the two will still have their special relationship.
The biggest surprise of the concert was Nathan Dugger, the electric guitarist and piano man. Nathan's electric guitar brought Drew's live songs to a whole new level compared to his recorded songs. Everyone in the audience was impressed with this talent and the beautiful music it produced. Drew also told the audience that several of their hit songs, like "Good Time Girl" and others, were written by Nathan. Many people had no idea that Nathan's role was that large in the band.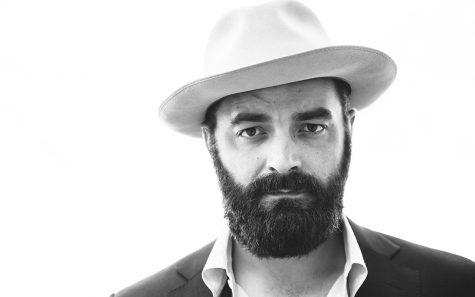 As the sun sank low, and the light began to dim, Drew announced that he was about to play the last song asked the crowd to join him. So together, the audience, and the band finished by singing "Here We Go."