French & Spanish clubs give international perspective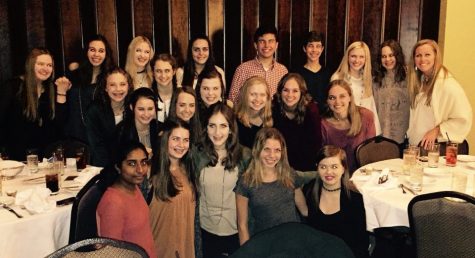 On Thursday, November 17th, members of the French Club gathered at Anjou a southern French restaurant in Ridgeland to celebrate "Beaujolais Nouveau." Beaujolais Nouveau is a celebration of the French-made wine that is from Gamay grapes.
The annual event celebrates the end of a year of harvest of the Gamay grapes, which produce the very popular French wine.
However, since no French students ranging from grades eight to twelve are 21 or older, the students did not drink any of the famous wine, but instead ate the fabulous dinner special by Anjou.
The French students had a great time speaking French to one another and some ordered in French. Given a private room and an exclusive meal, all of the students had a wonderful time and hope to continue the tradition next year.
The 2016-2017 school year signifies a new direction for the Jackson Prep Spanish Club. Under the direction of Ms. Katie Luckey, it provides opportunities for students to connect with Spanish culture in a variety of ways.
So far, the club has had several productive meetings where officers were appointed and they have celebrated El Día de los Muertos, also known as the Day of the Dead. El Día de los Muertos takes place on November first and second.
These two days are used to honor the dead, and it is celebrated through festivals.
The Day of the Dead was celebrated by Prep students on Patriot Avenue with activities and culinary delights. Specifically, Spanish Club provided desserts and a face painting area for students. On the subject, Emory Maxwell, the 10th grade Spanish Club Social Chair, said
"El dia de los Muertos celebration was really fun and many students painted faces and baked cakes."
This year's officers include president Joseph Upton, who is serving his second term as chief of staff, and other officers Avery Andress-Vice President, Jewels Tauzin-Philanthropy, and representatives from each grade.
Some of these include freshman Garrett Davis, sophomores Caitlyn Parks and Maclain Kennedy, and Juniors Kole Crotwell and Duncan Jones.