Mock Trial goes to State Competition
"
you really get to experience how the court system works and you learn a lot about the legal system."
— Mary Patterson Hester
The Mock Trial team this year is sponsored by Ms. Williams. The Jackson Prep Mock Trial team sent two teams to the Jackson Regional Mock Trial Tournament on Saturday, January 21. Both teams advanced to the state tournament which took place March 9 and March 10. The Mock Trial team is led by Captain William Leech, Co-Captain Lily Garretson, and Team Secretaries Mary Patterson Hester and Lauren Williams.
They usually practice once a week, sometimes twice a week. Junior Mary Patterson Hester's dad is a lawyer and helped the team prepare for their competitions. The team attended two competitions this season. They were in the top of their first competition so they advanced to the State competition that took place at Hinds County Courthouse.
There were two teams from Prep that competed. One team of lawyers was Mary Patterson Hester, Lily Garretson, and Mitchell Boulanger. Kelly McBride, Baron Liston, and Shelby Andress were on the same team, but they were witnesses. The other team of lawyers was William Leech, Jack Mullen, and Lauren Williams. Annie Rogers, Will Gage, and Nosyatina Turcal were witnesses. These two teams competed against the other teams at the competition.
Each team gets a court case that is based on an actual case. The case that they are given varies from the actual court case in some ways, and the people who change the case try to make it where either side could win the case.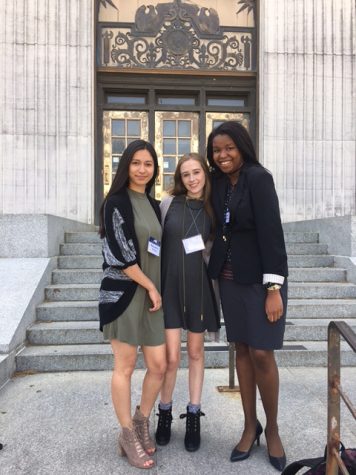 Everyone gets assigned a character or characters to be in the case. Junior Mitchell Boulanger said, "I like Mock Trial because it's like an episode of Law and Order but you get to be the characters." Each team is judged on how well they perform. Junior Mary Patterson Hester said, "My favorite thing about Mock Trial is that you really get to experience how the court system works and you learn a lot about the legal system." This year's team had a fun, successful year.