Culinary Club is cooking up a storm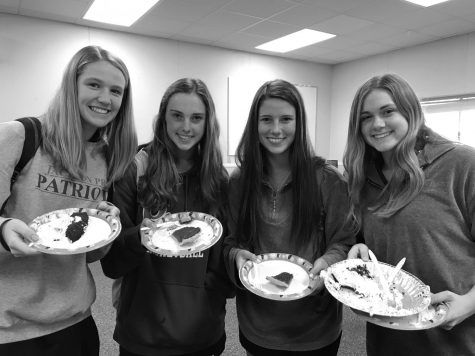 Culinary Club brings students together who share a love of food and cooking.  They meet once a month during activity period and homeroom. Members are invited to bring a dish based on the theme that month with a copy of their recipe. Everyone gathers and enjoys the food brought by each student. Some months members go out to eat at a restaurant. Anyone in grades 9th-12th is welcome to join. Culinary Club is overseen by Coach Bradford and Ms. Katie Luckey. This club gives students a chance to try different recipes and broaden their palate.
This month, members brought pies to share with the club.  Throughout this year, we have decorated cookies and drank hot chocolate for Christmas, had a Valentine's Day, and had a Thanksgiving feast. Culinary Club is a laid back club that anyone can get involved in. Talbot Fletcher says, "Free food is good," so even if you are not the most talented baker or cook it can still be fun.
The club was started by Mrs. Lynch. Mrs. Luckey took over after her, but it didn't really take off until this year. She says, "I like culinary club because it's something different than spanish and I get to know students that I normally wouldn't otherwise."
Culinary Club is a favorite for a lot of its members because it provides students a way to be creative in a way that other clubs do not.