School hit with second wave of illnesses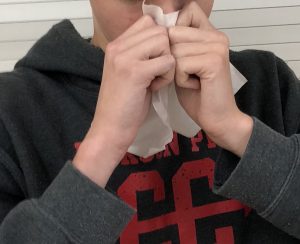 Most years, the typical season for the flu begins in October and stretches until roughly spring break, with January and February being the months that the flu affects the most people. This year, however, Jackson Prep has seen a sudden resurgence of the flu and other illnesses in the middle of April, causing mass absences in many classes throughout the school, compounding upon the many absences in February, when Mississippi was reported as the number one state for flu activity. Many students believe this round of illness may be worse than the one in February, as seemingly everyone has been affected in some way.
It seems that the beginning of this outbreak may have something to do with prom. Many students started feeling sick shortly after the Senior High prom, which was held on Friday, April 5, and from there, the bug began to spread to other students.  
Hit particularly hard was the varsity baseball team. Given the amount of time teammates spend around one another in such a close proximity, a locker room can foster a large number of people becoming sick at one time. For their doubleheader on Thursday, April 11, at Parklane, the baseball team had 8 of its 25 members miss due to illness, with multiple players who did play feeling ill as well. Even with missing such a large number of players, the team was able to rally around who was remaining and win both games in the important conference doubleheader.
While other illnesses such as the stomach bug and the common cold have had an effect as well, the main illness going around is the flu. The flu has caused students to miss the majority of an entire week of school, giving them aches, stomach problems, and sinus issues. Part of what has made the flu so deadly is that there are two different strands of it going around, an A strand and a B strand.
As is the case every year, eventually the flu and this illness wave will run its course and all will return to a relative norm as far as sickness-related absences are concerned. In the meantime, make sure to steer clear of those who are known to be contagious and remember to always wash your hands.