Boys' soccer wins tenth straight state championship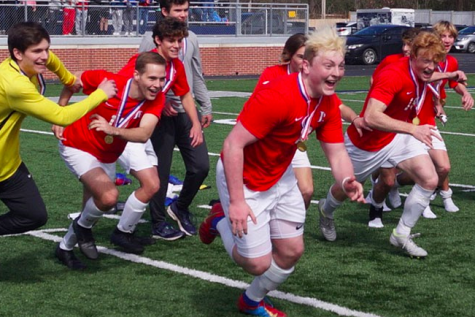 On February 22, the boys' Jackson Prep soccer team played the longest game of the season against Jackson Academy for the championship and the opportunity to add another year to their winning streak. As the game went down to the final moments of overtime, Prep was able to score two goals to secure the win against the Raiders.
After the team breakfast the morning of the championship, the players made their way to Prep, where they turned in their jerseys for the season. After Coach Duncan talked to the team, they then left Prep and made their way to Jackson Academy for the kickoff at 11 am. After both teams warmed up and got ready for the game, the whistle set the game off.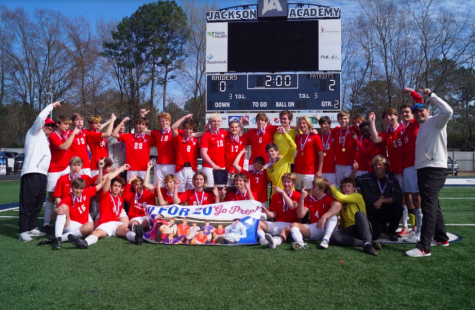 After regulation time, the game moved on to a period of twenty minute overtime, made up of two ten minute halves. In the last few minutes of the second half of overtime, Sophomore Jacob Davis crossed the ball to Senior Blake Painter, who was able to score the first goal of the game.  Davis "saw him running down the midfield and was able to put it on his foot, and Blake was able to finish it off." Then, a few minutes later, Senior Preston Oden was able to score the second goal and secure the victory for the Patriots. 
The entire coaching staff was ecstatic at the victory, and the team got to take home the trophy this year along with gold medals. Some of the members of the team even took the trophy back to the Prep soccer field and put it on the field to show that the trophy is where it belongs. 
This was an amazing way for the soccer team to finish their season, especially since they got to further the streak to ten years in a row. The future teams will look to continue this streak, and the girls' soccer team will look to get their second championship in a row as their season starts this spring.