Mississippi begins to flatten the curve (COVID-19 Mississippi/Jackson update 4/23/20)
Up to date as of April 23, 2020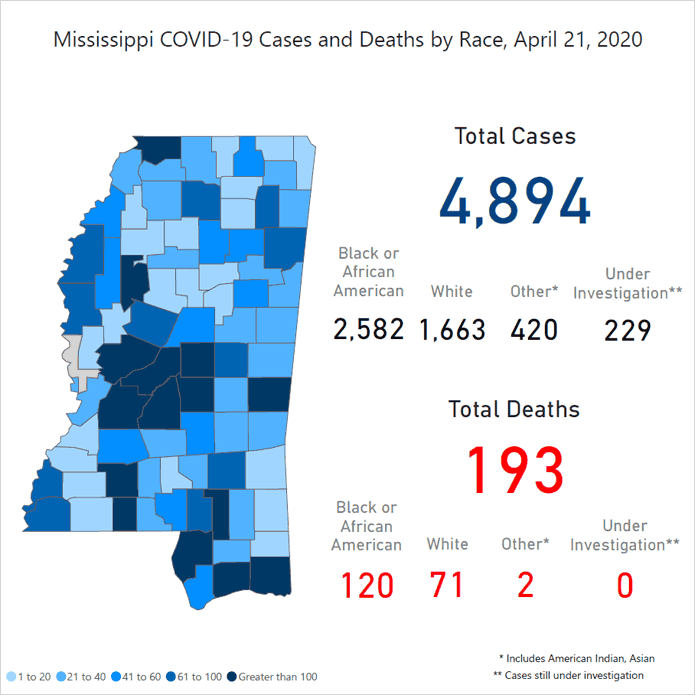 This past week, COVID-19 cases continued to rise, but in good news, the curve is beginning to flatten as Mississippi seems to have reached its peak. As of April 23, Mississippi has 4,894 cases and 193 deaths, with Issaquena continuing to be the only county without any cases.
The statewide shelter in place order that was issued on April 1 was extended by Governor Tate Reeves to end on April 27 as Mississippi has seemingly hit its peak. Governor Reeves also rolled back some of the restrictions. These restrictions include reopening most beaches, lakes, and fishing holes and allowing for nonessential businesses to reopen through curbside pickup and delivery. 
Last week, Governor Reeves set up a task force to "restart" Mississippi. This task force is made up of Mississippi's top businesspeople to study the economy and give suggestions to Governor Reeves about when to open the economy to the extent of pre-coronavirus days. 
This week, in response to the COVID-19 pandemic infecting thousands and hurting many more economically, Attorney General Lynn Fitch plans to sue the Chinese government. This is because as AG Fitch said, "Too many Mississippians have suffered as a result of China's cover-up. They must not be allowed to act with impunity. Mississippians deserve justice, and I will seek that in court."
The University of Mississippi Medical Center has started conducting clinical trials to find ways to better treat the coronavirus. UMMC is continuing to test people for COVID-19 by setting up one day testing sites across the state. Mississippi now ranks among the top in the nation for daily testing rate.