Chess team dominates in three local tournaments
The chess club participated in its first few tournaments at the end of October, starting the year off with 3 tournaments in one week.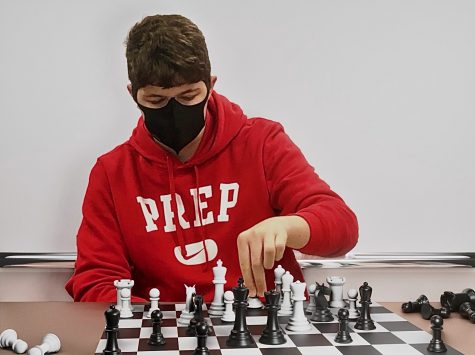 On Halloween morning, Jackson Prep held its first ever in house tournament, the "JP Halloween Chess Extravaganza Championship of the Year." Costumes were encouraged as Prep students took on classmates in a fight for an antique chess set that served as the first prize. With such a reward at stake, students put their mental abilities to the test. After 4 rounds, senior Eli Venarske emerged victoriously, followed by sophomore Megan Tomlinson in 2nd, and senior Joseph Watts in 3rd.
The rest of the standings were as follows: Grayson Ohnmacht 4th, Cage Puckett 5th, Cass Rutledge 7th, Andrew Puckett 8th, Angel Tu 9th, Garin Ohnmacht 10th, Edward Wilson 11th, and Austin Terry 12th. Senior Austin Terry also won the best costume award and a bag of candy to boot.
A day after election day, on November 4th, the chess class went head to head with other MAIS schools in the annual MAIS Tournament. The class was split into two teams, a junior high team and a senior high team. While simultaneously keeping up with the election results, the senior high team mopped the floor with the other senior high teams, securing first place. The junior high team also did well, earning second place in their bracket, a phenomenal achievement since the junior high team was mostly made up of beginners.
Every good team is led by a good individual. The same was true for both teams with senior Ty Usey placing 2nd out of 65 and freshman Hayes Elliott placing 1st out of 44. Both ended the day on 5 out of 5 possible points.
In the senior high bracket, Barnabas Spivey won 4th place, Joseph Watts 5th, Eli Venarske 6th, Selby Ireland 7th, William McHenry 8th, and Drew Laird 9th. In the junior high bracket, Cage Puckett won 6th place. Also competing were Angel Tu, Megan Tomlinson, Aden Powers, Brendan Berry, Austin Terry, Katie Poole, Eliza Hollingsworth, Hart Maley, and Addy Katherine Allen.
While there was no football game on the night of November 6th, many members of the chess team attended the St. Augustine Fall Chess Tournament. With a much smaller bracket, the members found themselves facing off against each other for the majority of the tournament. After 5 rounds, Eli Venarske placed 2nd, Garin Ohnmacht 4th, Joseph Watts 5th, Cage Puckett 7th, Hayes Elliot 8th, and Grayson Ohnmacht 10th.