Movie Preview: Justice League to fly to theaters in November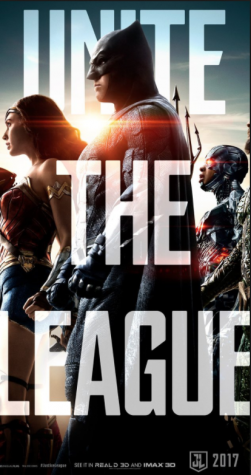 Directed by Zack Snyder and written by Chris Terrio and Joss Whedon, DC Comics' newest installment, Justice League, will hit theaters on November 17th. The cast includes Ben Affleck as Batman, Gal Gadot as Wonder Woman, Henry Cavill as Superman, Jason Momoa as Aquaman, Ezra Miller as the Flash, and Ray Fisher as Cyborg.
In the film, Batman and Wonder Woman assemble a team consisting of Flash, Aquaman, and Cyborg to face Steppenwolf (Ciaran Hinds) and his army of Parademons. In the wake of Superman's death in Batman v Superman, Bruce Wayne reevaluates his extreme methods and begins reaching out to form the classic DC superhero team, the Justice League.
Throughout the last decade, DC has been very lackluster in their movies, leaving everyone feeling nauseous after numerous cinematic failures such as Green Lantern, Man of Steel, Batman v Superman, and Suicide Squad, to name a few. It was not until Wonder Woman took the world by storm in June of 2017 that our faith in the DC universe was restored. Many members of the media have claimed that Wonder Woman will make Justice League a bigger hit. Wonder Woman has helped the DC franchise hop over the three billion dollar mark at the worldwide box office. Thanks to Patty Jenkins and Gal Gadot, Justice League will be more anticipated than it otherwise might have been just because it is the next chance for fans to see Wonder Woman kick butt on the big screen.
No matter if the movie fails or exceeds expectations, Wonder Woman alone will draw crowds. Of course, it would not hurt if the movie did live up to the hype. The ball is in your court, DC.