Reading takes center stage for "One School, Many Books"
One School Many Books, a community reading program at Prep led by Mr. Richard Younce, was held on Tuesday, September 1. This is an event in which students read a book that was also read by a faculty member, who then leads a discussion.
The day is an opportunity for students to read a book that appeals to them. The possible titles come from a list that was made by faculty members. This year, there were 74 books that were put on this list, giving plenty of options for the students.  
There were no quizzes this year on the books, so the students and teachers participated in discussions about their favorite parts of the book and other topics that the sponsor wanted to discuss during the meeting. 
Students signed up for their books through a website that opened up this summer. At the front of the senior high foyer, lists were posted of the books and the students who read them. The room number that they were assigned to go to during activity period for the discussion was also listed on these sheets. Mr. Younce pointed out that there were some difficulties for students who are currently attending school remotely during the discussion.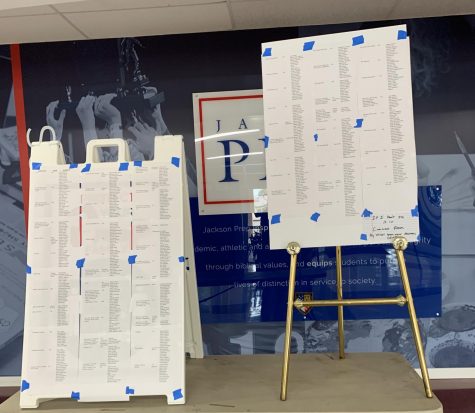 The students were given Rice Krispy Treats during the discussion. Last year, ice cream was given out at the end out on Patriot Avenue, but that wasn't possible this year due to COVID.
Mr. Younce said that the purpose of One School Many Books is multi-pronged: "The program provides a variety in the summer reading book choices, lets students know that people other than English teachers read books, and allows students to spend time with faculty members they may not otherwise meet." 
Over 620 students that participated in One School Many Books this year. Some of the genres included in the book list were biography, literary fiction, inspirational, general nonfiction, and science fiction. 
Mr. Younce is also open to suggestions from staff and students on how to improve the program for future years.