Review: "Patriots Day" is a true testament of heroism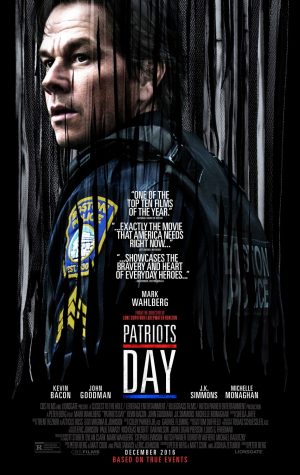 Recently, an increasing amount of movies have been released that depicts heroic people, some whose actions lift them high above the crowd. Patriots Day is such a film, which highlights everyday heroes of Boston: the police, families and communities who joined forces after the horrific bombing at the finish line of the 2013 Boston Marathon.
"
I was disappointed in that fact that Mark Wahlberg's character was a fictional role and had no correlation to the true story, despite his talents in being able to adapt to most roles."
— Steven Wyatt, Tenth Grade
It opens with a scene showing fictional character Sgt. Tommy Saunders, played by Mark Wahlberg, doing a routine drug bust. The point of this scene is to show that Saunders was suspended earlier in the year and is given the humiliating task of guarding the finish line of the Boston Marathon.
Only hours later, he is in the middle of the bombing where he rises to the occasion and helps track down the two brothers who are responsible for the terrible actions. Director Peter Berg highlights the journey each brother took to plant the two bombs, using characters, who to some, are exact look-alikes.
This movie is not shot using cinematic stabilization gear, but it was shot from a walking camera man. This style of movie shooting is related to a documentary style movie and is intended to make the audience feel like they are walking along with every scene.
"
I greatly appreciated how director Peter Berg connected the audience with many of the characters and their personal experiences with the boston bombing."
— Duncan Jones, Eleventh Grade
Produced by CBS Film Studios, this movie was shot in the Boston area and features some scenes that are exactly where the bombing took place. As mentioned earlier, Mark Wahlberg plays the main role as Sgt. Tommy Saunders who is a Boston Police Officer, Kevin Bacon stars as Richard DesLauriers who is a Special Agent in the FBI's Boston field office, and John Goodman stars as Boston's Chief Police Officer Ed Davis.
Peter Berg has delivered an account of the Boston Marathon bombing that touches on emotion and patriotism. Patriots Day is absolutely riveting and often devastating, but ultimately, it is a film that highlights heroism and the importance of a community coming together. The two brothers who orchestrated the attack planned for months and were able to bring a city and nation to its knees. After months of planning on their part, it only took two days to unite a town more than they ever have been. Because of the strength and resolution the people of boston showed, they forever became "Boston Strong."