There's a new sheriff in town
Sarah Scruggs steps in as assistant SH principal (From Issue 2)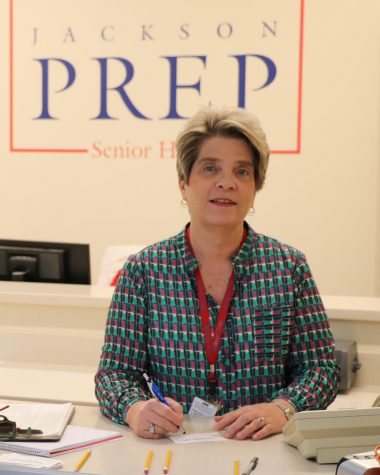 As the saying goes, it's a dirty job, but someone has to do it.
For many of the things that make the senior high run, that person is the new Assistant Head of Senior High, Ms. Sarah Scruggs. She takes over the position most recenlty held by Ms. Nell Bradford, who retired at the end of the 2017-2018 school year. 
Ms. Scruggs is not new to Jackson Prep, having taught US History at Prep for 8 years. She hails from Kosciusko, MS. After high school, she went to Millsaps College and then Mississippi State University, where she obtained a Bachelor of Arts degree in History.  She has also recently completed an MAIS Leadership Institute. 
Shortly after college, Ms. Scruggs began teaching. She taught American history and government at Kosciusko High School and then at Clinton High School. Later she taught both history and English in the Madison County School system. 
"
I'm not on a mission trying to catch people, I just want to get to know them!""
— Ms. Sarah Scruggs
Then Jackson Prep came calling. She was a substitute teacher for several years, and, in 2010, she started teaching U.S. History to 11th graders. Two of her sons are also Prep graduates, Taylor (Class of 2007), and Marshall (Class of 2011).
Going from the classroom to an office can be a major change. Asked what she will miss most about teaching, Ms. Scruggs said, "I will certainly miss interacting every day with the same group of students. I really enjoyed the relationships I made with every one of them."
Important responsibilities come with all administrative titles, and the Assistant Head of Senior High position is no exception. Ms. Scruggs oversees overall discipline and rule enforcement in the Senior High, along with coordinating back-to-school, textbook sales, the book line, and setting the exam schedule. She is also the Director of New Teacher Mentoring. 
Ms. Scruggs describes herself as a "consistent disciplinarian," but also a very fair one. She went on to say, "I don't believe in letting any student slide. I don't think it's fair to give your friend a referral for not wearing uniform pants, but not give you one if you aren't wearing them." 
With all of her duties, she admits to sometimes missing being in the classroom, but she leads an advisory period on Mondays, which serves as her "classroom," she said.
Responsibilities aside, there are parts of her job in which Ms. Scruggs truly takes pleasure in. She said, "I enjoy getting to know the entire Senior High student body, rather than a small portion of them when I taught." She also said that the staff in the Senior High is very easy to work with, a bonus in any occupation. 
If you are a student in the Senior High, you may see Ms. Scruggs periodically making rounds in the hallways or other parts of the campus. Contrary to what some students might think, she is not simply checking for dress code violations. Rather, she said, "I'm not on a mission trying to catch people, I just want to get to know them! Sitting in an office all day is not my personality. I like to be active and mingle with all the students and fellow faculty members."