TV: Dancing Just Got Smaller

Dancing with the Stars: Juniors premiered Sunday, October 7th. Like its partner show, DWTS Juniors consists of kid dancers who are considered the "pros" and kid celebrities who are considered the "stars." Adding a special twist, each pair gets the help of a mentor, who is a pro on the older show.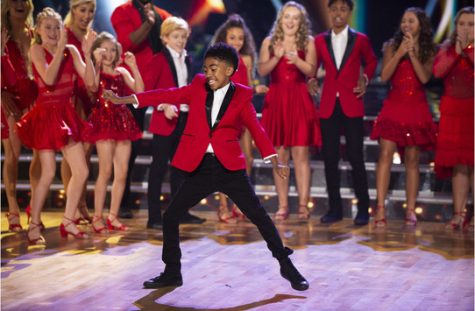 The hosts of the show are Frankie Muniz and Jordan Fischer, both featured on season 25 on DWTS. Muniz competed with pro Witney Carson, finishing strong in 3rd place. Fischer and his partner Lindsay Arnold won, taking home the mirrorball. Judges will include Val Chmerkovskiy, an experienced pro, Adam Rippon, an Olympic figure skater and winner of Dancing With the Stars Season 26, and Mandy Moore, an Emmy-winning choreographer.
The cast is made up of a talented group of kids, consisting of reality show stars, sports prodigies, and actors. Akash Vukoti is a "spellebrity," being the youngest boy to ever compete in the Scripps National Spelling Bee, and is also the youngest contestant on the show. He is partnered with Kamri Peterson, and they are mentored by Witney Carson. Mandla Morris, an aspiring fashion designer who is the son of Stevie Wonder, is competing on the show with Brightyn Brems and the help of mentor Cheryl Burke. Surprising the audience and viewers, Morris proved he was a front-runner of the competition and received one of the highest scores of the night.
Popular from TLC's Toddlers & Tiaras and later starring in her own show Here Comes Honey Boo Boo is Alana Thompson. Also known as "Honey Boo Boo", she is partnered with Tristan Ianiero and mentored by Artem Chigvintsev. Small but fierce actress Ariana Greenblatt, appearing on Disney's Stuck in the Middle, Marvel's Avengers: Infinity War, and more, is partnered with Artyon Celestine and is mentored by new pro Brandon Armstrong. She achieved one of the highest scores of the night, wowing watchers with a jam-packed and energetic dance. Hudson West, who is featured on many shows such as Modern Family and Grey's Anatomy, is currently seen as Jake Spencer in ABC's General Hospital. He is partnered with Kameron Couch and mentored by Hayley Erbert, who is not a pro on the older show.
Other actors on the show include Miles Brown and Jason Maybaum. Miles Brown, staring in ABC's Emmy-nominated show black-ish, is dancing with Rylee Arnold, sister of pro Lindsay Arnold who will be mentoring the couple. He also received one of the highest scores of the night, entertaining the audience with his lively performance full of content. Maybaum plays Levi on Disney Channel's Raven's Home, a spin-off of the iconic show That's So Raven. He is partnered with Elliana Walmsley, who has been featured on the show Dance Moms, and has the help of mentor Emma Slater.,
Daughter of NBA legend Scottie Pippen is Sophia Pippen, who is dancing with Jake Monreal and mentored by Sasha Farber. She is also a model, walking the runway during Kids Fashion Week in NYC for many popular brands. Another high-scorer of the night was Sky Brown, pro skateboarder racking in over 50 million views on social media. She and her partner JT Church are mentored by Alan Bersten.
Different from its older show, DWTS Juniors has its audience vote instead of the viewers. Being eliminated from the show on its premiere was Addison Osta Smith and Tripp Palin. MasterChef Addison Osta Smith, partnered with Lev Cameron and mentored by Keo Motsepe, is sad to leave but she knows she tried her best and had fun. Tripp Palin, dancing with Hailey Bills and mentor Jenna Johnson, wanted to do the show because his mom did the show. He was nervous because he'd never danced before, but he learned that he could still try his hardest and have fun.