The Sentry's 2020 presidential election guide
For the sake of brevity, many issues and stances could not be included in this story. We elected to put only the ones we thought were most important at the time of writing. For more in depth information, please go to the campaign websites of both candidates.
The 2020 presidential battle is officially set: Democratic challenger Joe Biden and Republican incumbent Donald Trump. Now, as we get closer to November 3, it is time to get to know the two candidates, their vice presidential nominees, and their campaign platforms in order to make a wise decision at the ballot box.  The future of our country for the next four years lies in the hands of this next election.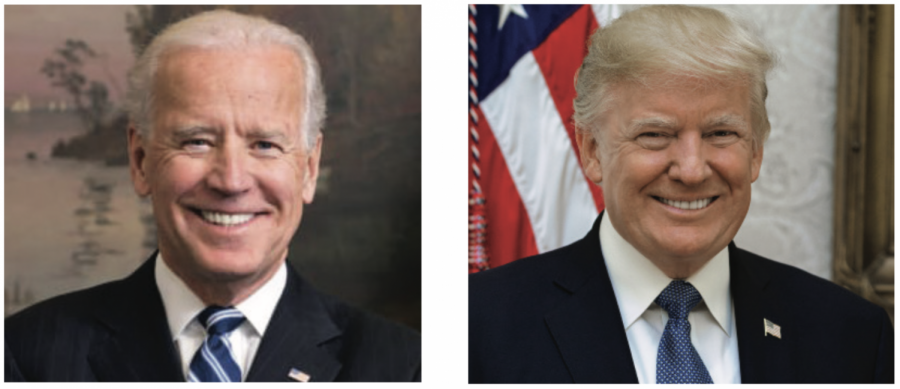 Vice President Joe Biden, 77, is the Democratic nominee. Having served in Washington since 1973 for a combined 47 years, Biden was a behind-the-scenes figure in the United States Senate for decades. In 2008, he accepted the vice presidential nomination from then political newcomer Barack Obama because of his experience and recognizability within the Democratic party. Biden is now in his third run for president, having run previously in 1988 and 2008, but is for the first time in his career, the Democratic nominee. Biden has weathered tough times throughout his career, losing his wife and daughter in a car crash just after becoming Senator-Elect and then losing his son, Beau, to brain cancer in 2015. 
Citing his late son's work as Delaware Attorney General, Biden selected California Senator Kamala Harris as his running mate. Harris, one of the harshest critics of Biden in the 2020 primaries, worked closely with Beau while serving as California Attorney General. 
Campaigning on his motto: "Battle for the soul of the nation", Biden's most ambitious goals are rebuilding the middle class, fixing campaign finance laws, expanding voting rights, and ending gerrymandering. Biden's long public career on the national stage has opened him up for criticism on his past comments on race and China, and his rising age, which some say points to questionable mental fitness. 
President Donald J. Trump, 74, is the Republican nominee. Before running for President, Trump was President and Founder of the Trump Organization. He first ran under the slogan of "Make America Great Again" in 2016 and beat Secretary Clinton in an electoral upset, winning swing states that President Obama won by a large margin in 2008 and 2012. 
Notable first term actions include moving the United States Embassy in Israel to Jerusalem, creating a new branch of the military, the Space Force, replacing the North American trade deal NAFTA with the USMCA, building hundreds of miles of border wall between the United States and Mexico, and passing the Tax Cuts and Jobs Act and the First Step Act. Trump has also been impeached for Abuse of Power and Obstruction of Congress. 
Trump chose Indiana Governor Mike Pence in 2016 as his running mate, and he will keep his spot on the 2020 GOP ticket. The most prominent responsibility of the Vice President has been serving as Chairman of the White House Coronavirus Task Force. For his second term, Trump's most ambitious goals are expanding school choice, banning sanctuary cities, and passing Congressional term limits. Trump has been criticized for his blunt personality, sporadic tweets, and unfiltered remarks, including the Access Hollywood Tape from 2005 which shows Trump making crude, inappropriate, and lewd statements about women.