Cookin' With Sam: Learning to Cook is No Cakewalk
Hang on for a minute...we're trying to find some more stories you might like.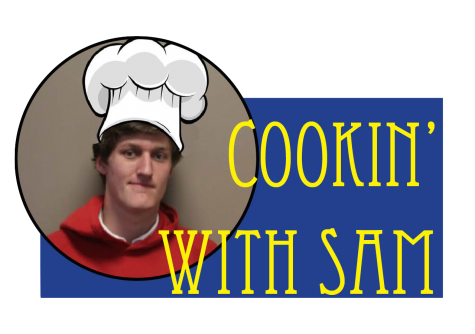 I am by no means a good chef.  In fact my cooking can only be described as dreadful. I am truly a miserable cook.  But one day, I aspire to  become an average one, through practice (my parents taught me to aim high in life).  To begin my introduction into the world of cooking, I knew I needed to start off with something simple.  So I went to the internet to look for the easiest recipes for us humble beginners.   My mentor, Google,  suggested, Betty Crocker cake mixes, which I thought would be a great starting point for my introduction to the culinary arts.
I began my sojourn to the nearest Kroger to find these so-called Betty Crocker Cake mixes.  Once inside I quickly found the right aisle, which was filled with every kind of cake mix one could think of.  I wasn't charmed by the gingerbread or pumpkin offerings–too seasonal. Being an adventurous sort, I chose vanilla.  My preferred cake contained exactly three steps. Woo-hoo!
When I returned home, I reexamined the back of the box to make sure I fully understood the complex directions for completing my masterpiece.  The first step involved finding a bowl and pouring the cake mix inside.  The next step required three eggs to be dumped into the bowl (with the mix)  and stirred around for a while.  Easy enough, but I managed to screw that up when the egg shell cracked into the mix. I considered leaving the eggshell in the mix on the grounds that adding a little crunch texture might be a good thing. After rejecting that thought and  searching through the mix for what seemed like a really long time, I finally managed to retrieve the egg shell.
The last part of step two was mixing up the lumpy goo into unlumpy goo; my task was almost complete.  All that remained was to put the mix into the oven to await its perfection.  Depositing my creation into the appropriately preheated 350 degree oven, I sat down to channel-surf while required baking time elapsed, As the oven timer went off, I abandoned ESPN and got up to  take the cake out.  After the cake had cooled I tried to remove it from the pan. Sheepishly, I discovered that "Pam" cooking spray is required to make it easy for the cake to escape the pan. Missed that part of directions-oops.  Fortunately, only one small divot came off the bottom of the cake (Thank-you non-stick pan!).   After expertly applying a delicious can of "funfetti" frosting to my creation, my work was done.  My take away from this experiment is  this was probably a great way for a novice to be introduced into the world of culinary arts.
Hopefully now since I have gained the confidence to perform the simpler tasks of cooking, I can turn the page to move on to harder and harder tasks to become a truly adequate chef.   Do you think the Food Network will be interested?
To all readers out there, stay tuned:   In the next edition of "Cookin' With Sam," I will start my next chapter by cooking a tomato tart.