Précis Pageant: Holidays In Hollywood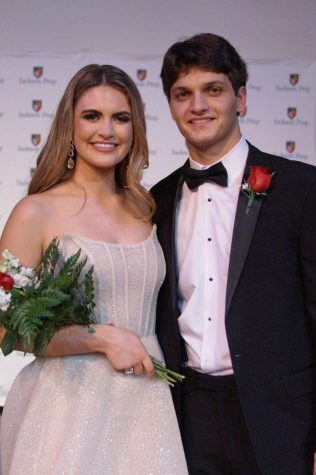 On the evening of Monday December 9, Jackson Prep was taken to Hollywood for the yearbook's annual fundraiser, the. This event has been long awaited by students and parents alike. This night is especially exciting for the seniors because they are honored with multiple awards, and the beauties and beaus are presented. The proceeds from the attendance of the pageant go towards the yearbook that students receive in August of the next school year.
The theme of the pageant was "A Night on Hollywood Boulevard." On the stage were beachy palm leaves, bright flowers, and a projected silhouette of the famous Hollywood sign. Earlier in the fall, the performers of the night went through an audition process before they could wow the crowd between award presentations. Senior Brennan Joy Hight made the audience emotional by singing, "Ordinary Girl" and Seventh Grader Charlie Faulk impressed the audience by singing and playing his guitar. Following the pageant was a reception with food that the award recipients and audience could use an opportunity to grab a bite, give hugs, and take pictures.
 The awards were presented for many different purposes and served as a way for the class to be represented as a whole by individuals who radiated certain gifts. At the beginning of the night the 8 beauties and 8 beaus were presented and sat on stage in anticipation until Sam Buchannan was given thetitle of Most Handsome and Elizabeth Watson was given Most Beautiful. The new Mr. and Miss Jackson Prep are Ben Johnson and Mary Noble Howard. Each grade also receives awards similar to this including Alex Stradinger and Sara Hederman as Mr. and Miss Senior Class, John Henry Andress and Aubrey Scott Moak as Mr. and Miss Junior Class, and Ben Futvoye and Annie Jicka as Mr. and Miss Sophomore Class. Brennan Joy and Walker Jay Patterson were awarded most talented. Turner Isonhood and Neha Adari were awarded most likely to succeed. The wittiest of the grade were Caleb Gay and Kate Oliver. Thomas Swayze and Michelle Daschbach were given the award of most artistic, and Parker Wilkinson and Maya Mabry were most school spirited. Most athletic were Price Loposer and Reed Kellum. Most Charming was given to JC Polk and Miriam Cochran, and Friendliest was Wright Thompson and Abigail Metcalf. Most Intellectual went to David Crews and Leigh Hardin, while Most Versatile were Russ Upton and Olivia Clapp.
The yearbook is a great way for students to reminisce on their school year, and it would not be in existence without the incredibly talented Précis staff and Ms. Anna Griffin. Ms. Griffin not only is the sponsor of the yearbook, but also teaches 11th grade AP English Language and Composition. The Sentry is proud of their fellow student publication and all their hard work.